Video client: "Thanks for this looks very good, it has been a pleasure working with you, I thought your whole approach was great in terms of preparation and project management, really pleased with the outcome which has met our requirements on a tight budget."
Justin Daglish (Minus Engineering)
Media training client: "Matthew provided ShelterBox with a lively and well thought out programme of media training. His technique of asking me to consider an unfolding story from different perspectives was effective, as were the 'on camera' sessions and the inevitable critique. Matthew's style is very relaxed, but he clearly has a wealth of broadcast experience, and I'd be happy to recommend his media training to others."
Alison Wallace – chief executive Shelterbox
KernowPods now has a video-production arm, working in highly creative and engaging visuals.
KernowPods working with Well-Voiced
KernowPods & Well Voiced recognise that combining forces to build a strong service to clients is important. We are therefore collaborating to bringing our media and performance skill-bases together. Have a look at what Richard Hainsworth of Well voiced has to offer.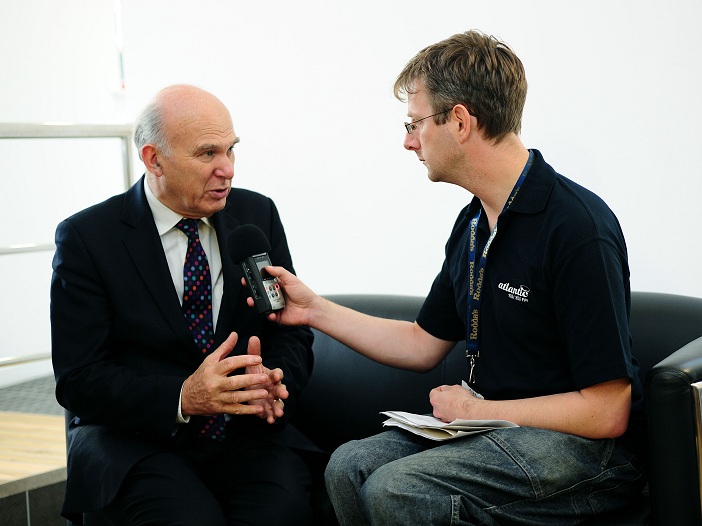 More voice coaching on the beach HERE
We are all about making you sound the star you are. KernowPods uses the passion in your business, mixes it with broadcast magic – and produces content to help you contend with the best.
Cornwall Blind Association has benefitted with latest bit of our magic. We covered the charity's AGM and then put together podcast that went out on www.thisiscornwall.co.uk
KernowPods also have distribution for business stories on www.businesscornwall.co.uk. The magazine and website's editor, Nick Eyriey, has used us to report on everything from the awarding of LEP status to Cornwall to interviewing Cornwall Council's chief executive Kevin Lavery. Listen to what Nick says about us:
Audio clip: Adobe Flash Player (version 9 or above) is required to play this audio clip. Download the latest version here. You also need to have JavaScript enabled in your browser.
KernowPods is a Cornwall-based service providing your company or organisation with professional, broadcast standard, online audio.
We may call these podcasts but, in fact, they are a whole lot more. KernowPods gives you quality content that adds value to your website.
We do not only produce podcasts about news stories and events, but we also produce website in an audio form to engage with people who cannot read off the web easily or who want to listen whilst getting on with something else. It can sound rather like this:
Audio clip: Adobe Flash Player (version 9 or above) is required to play this audio clip. Download the latest version here. You also need to have JavaScript enabled in your browser.
Subscribe to our feed here.

KernowPods is here to bring professional broadcast skills to the business community. One key way is to help you improve the way you communicate your message. KernowPods can run group or 1-2-1 voice coaching sessions. The benefit – engaging and communicating better with clients and colleagues. We have seventeen years experience in radio production and employ the same skills for sounding authoritative and engaging on-air as we do for talking with clients and customers.
Just consider how much of your time you spend speaking to people to secure contracts – and then think how much more effective you could be if someone could help you sound better. Voice coaching for business is a service which provides real benefits. Many companies splash the budget on Powerpoint training or management skills – so why do so few ignore the power of the voice?
We can help you rectify this situation by providing voice coaching for business.
Among our top clients, we have already provided for:
KERNOWPODS IS NOW AVAILABLE ON I-TUNES: HERE
Manually Edited Cornish Business Directory With Links, News, Weather and Information For Cornwall UK